Years: An Amazing iPhone App
Years is an amazing iPhone app that gives a nicely laid-out full year calendar, making it easy to plan for vacations or mark important dates.
This app shows four months on screen but it can be scrolled to later in the year with the swipe of finger. The top buttons let you see the previous year or you can plan for the coming year.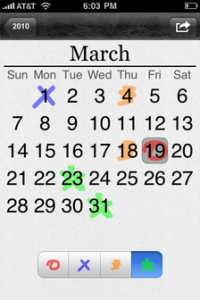 As you'll touch a month on the screen, it will give you full screen view. By accessing the tapping buttons at the bottom, you can get four different ways to mark your calendar. This app facilitates you in circling dates, cross them out use a little scribble graphic, or add a star. There is no text input. You can email the email the month or year after marking your important dates to remind someone of important dates or you can copy the year for personal use.
This app is very useful, even though there's not much to it. You can set out most of the important dates by setting up your own system for the marks on calendar.
With that said, it would be very helpful to have things like text input for more detailed scheduling, day views for mapping out your busy day, and push alerts so you don't miss anything important.
Certainly the possibilities are endless, and there are many calendar apps out there that have those things, but maybe this is exactly the way the developers wanted this calendar app to be–a quick view of important dates with an elegant interface. Either way, Years will be useful to just about anyone, even without more advanced features.