Wikipedia Users can Enjoy with Articles iPhone App
Wikipedia users wished to read Wikipedia on iphone, and now it is possible. Now you can read article and other stuff via your iPhone.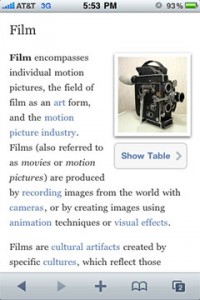 There are some innovative features in this app, like you can view articles based on locations, a very good photo viewer (you can either copy photos or save them to your camera roll), and a multi-page interface that works the same way as Mobile Safari.
The app also features a pull-down menu, a la Tweetie 2, that can easily set the orientation of the device and perfect for those that want to view Wikipedia articles while in bed or on their side.
You can search both article titles and content, bookmark your favorite articles in folders of your choice, and even view an article at random by shaking the device.
Additional features available in app are; text is clear and highly readable, easy scrolling between sections and clicking on an info box quickly enlarges that section.
Those deficits pale, though, when compared to the overall presentation of the app. One of my favorite features is that you can tap and hold on an intra-wiki link and open up the link in a new page — just like in Safari. I also like how text can be magnified or made smaller by using pinch zoom.
If you're looking for a way to access Wikipedia and you want the best looking experience possible, give Articles a shot. It has been localized in Dutch, French, German, Italian, Japanese and Spanish — so it's a good option for multi-lingual iPhone users too.
How would you access Wikipedia on your iPhone? Let us know!