iPhone Vs iPad; Can iPad Replace iPhone?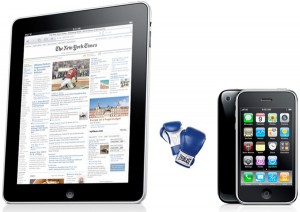 For a product to be popular, either it should have a monopoly or must give its competitors tough time. But at times strange things happen, when your own product stands a competitor of your another product. This is what exactly had happened to iPad and iPhone.
According to news, over the weekend of April 3-4, Attensity evaluated the sentiment of 50,000 discussion-oriented messages, or "tweets," on the iPad using Attensity Analyze for VOC (http://www.attensity.com/en/Applications-and-Services/Applications/Voice-of-the-Customer/Voice-of-the-Customer-Index.html), part of Attensity's semantic analysis application suite.

Seventy-three percent of the tweets expressed positive sentiment toward the iPad. The features that apparently make people happiest are the iPad's screen quality, keyboard and, especially, its varied applications. Oddly, 26 percent of tweets indicated hope that the iPad could potentially replace the .