Why iOS 5 needs better support for Gmail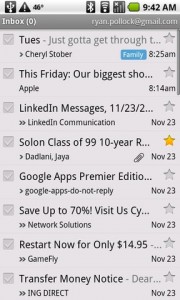 Gmail is the most popular email service for people of almost all age groups and fields. Once it was big storage only, but now with improved labs, tagging, labeling, themes, and a lot more features it has almost everything in it. Currently the iOS allows only archiving which is OK to send and receive mails along with search facility, but it's too boring Gmail on iPhone. Isn't it?
Gmail users love to see it fully functional! Apple may avoid this feature in iOS 5 in battle with Google as they once dropped the Google search button in Safari. But it would not be a smart choice, as 100% of iPhone users are Gmail users too, and disappointing all of them is not a good idea. Apple can also think of building their own, equivalent to Gmail or may be a better one, but certainly they're not able to do it that sooner, so the better option is enhancing support for Gmail which can be done sooner!