Opera Mini For iPhone Now Available On App Store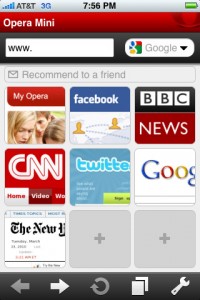 Many experts predicted that Apple might not accept Opera Mini for iPhone, but Apple proved its being not biased by approving the app. So, finally Opera Mini for iPhone is on App Store.
Though Apple approved the browser, it's reported that it took lot of time for the app to get approved. According to the spokesperson of Opera, the company has submitted the browser to Apple some 3 weeks back.
Well, Apple took so much time, after all it's company's stringent approval process and the apps flood! Anyway, Opera Mini is now a single click away from you. grab it for free for iTunes Store!