Kids AtoZ – Easy English Learning App
Kids AtoZ is a children English alphabet learning application that uses play and study concept together in a picture dictionary presentation.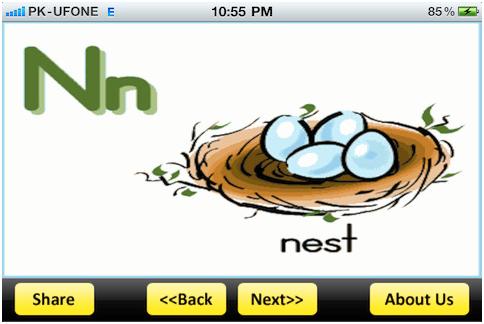 Ever seen picture dictionaries? Yes they are fun to look at. But at the same time they are also one of the most informative and easy ways by which kids get the hang of the English language Alphabet, its pronunciation and vocabulary. But imagine having a portable, interactive and cheaper digital version of this book. Zanura brings you the best in Alphabet learning apps for kids; Kids AtoZ.
Kids AtoZ App displays on-screen alphabets in the usual A to Z order with figures below that are named by the letters outlined above it. The child can switch and toggle between alphabets and screens by tapping right and left arrows.
The application is constructed in a manner by which an equal amount of attention generated during a child's play is devoted in the process of learning as well. This increases the kid's interaction abilities and allows him/her to discern correctly!