iPad Coming to UK On April 26, 2010!
April 7, 2010

Posted by qurratulain

under

iPad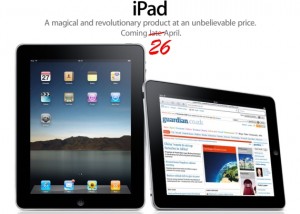 After getting busy days in USA, now iPad is coming to UK. There're rumors that Apple iPad UK launch will possibly be on 26 April, 2010. CNET UK has learned that a major publisher's app team is readying its iPad app for release on that date to coincide with the much-hyped tablet's launch.
It's though a rumor, but interesting; According to CNET UK, the UK Apple Store  staff had been told not to take the day off on Saturday 24 April, 2010. It can be April 23 too that iPad goes on sale in UK on this date as all versions of the iPhone have launched over here on a Friday.
Tuesday has been observed as Apple's traditional launch day for most other products, so signaling 26 April, 2010  the day for the iPad to arrive in UK.