40% of Blackberry users may switch to Apple's iPhone 4G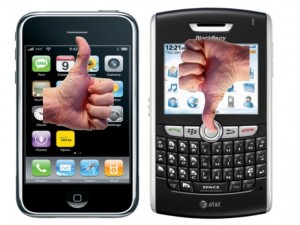 The upcoming hype of Apple's iPhone 4G may have penetrated in the skins of Blackberry users. According to new survey conducted by Crowd Science, 2 out of 5 40% of Blackberry users say that when their current deal with Blackberry expires, they would go for Apple iPhone instead.
It was also noticed in the survey that 66% of iPhone owners along with 77% of Blackberry owners say that they would be using their both devices for business and pleasure. This demonstrates RIM's strong point in this area.
As for as the next release of iPhone is considered it is becoming escalating day by day and is increasing the suspense to maximum level, with seemingly endless discussions on features, possible carriers and release dates. It can be assumed that upgraded iPhone was on Blackberry user's mind when they took part in survey.
Are you a Blackberry user or you are one of the 40% who could be divert to iPhone? Let us know what you think.